Is The World's Smallest Windows XP Computer For You?
Barry Gerber
Stylish Presentation, Beautiful Design
OQO's Model 01+ is an impressive pintsize mobile computer . A little larger than a deck of playing cards, it runs standard versions of Windows XP Home, Pro and Tablet PC and is elegantly designed. But all is not well in tiny land. The Model 01+ has some serious faults that limit its utility as either a portable or stationary Windows computer. Join me as I put the world's smallest Windows XP computer through its paces and MobilityGuru's torturous evaluation and testing cycles.
A couple of weeks ago, I received a square, plain brown box just about the right size for a 15" LCD monitor. For its size the box seemed quite light, but it didn't give the slightest hint of what might be inside. Opening the box, I found some loose optional accessories protected by bubble wrap and a stylish matte black cardboard presentation case about the size of a double thick 17" notebook computer. The case contained the goal of a year long personal odyssey to get my hands on what is the world's smallest Windows XP based portable computer, OQO's Model 01+.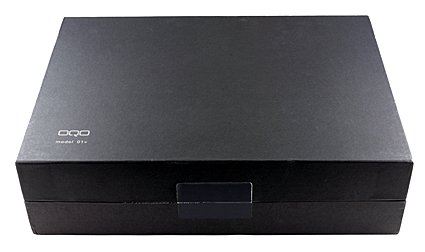 OQO Model 01+ presentation case closed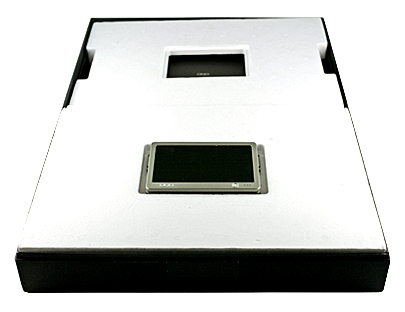 OQO Model 01+ presentation case open
I opened the presentation case, removed the computer from its protective Styrofoam housing and hefted the little thing, feeling for the first time its full weight: 14 ounces (418 g) with battery. For a moment it didn't even matter to me if the thing worked or not. What nice design! There was a stylus, meaning the device had some sort of tablet capability. Then I started fiddling with the unit and realized that the case was split horizontally into two pieces. The top piece rolled smoothly upward as if on ball bearings exposing a keyboard with a mouse joystick and a set of clearly marked left and right mouse buttons.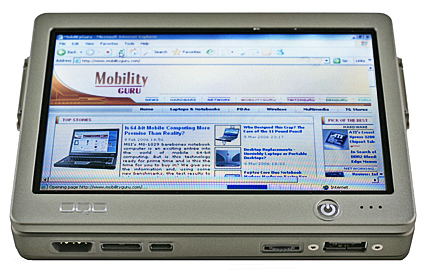 The world's smallest portable Windows XP computer at 4.9" x .9" x 3.4" (12.5 cm x 2.3 cm x 8.4 cm)
As I dreamily messed around with the keyboard, I snapped back into reality, remembering that my main task was to determine whether this small hunk of magnesium alloy covered components was up to the tasks implied by its Windows XP operating system.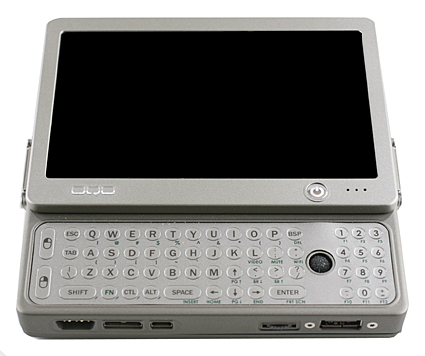 OQO Model 01+ with its keyboard and mouse exposed