Don't Let Pre-Paid Wireless Plans Empty Your Wallet
Rebecca Rohan
Pre-Paid Wireless: What's The Deal?
Wireless companies are clamoring to play the "no contract" game now - from the Tinker Bells to properties of the Big Bells, such as Cingular. Suddenly, gabbing on the go doesn't have to mean being chained to a contract for a year or two, with huge penalties for cancellations. With most pay-as-you-go plans, traditional monthly bills are history. Just sign up, buy minutes to use later, and replenish them - by credit card, debit card, check, or even cash at neighborhood stores for Virgin Mobile USA.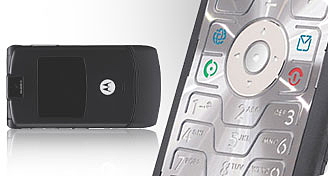 Motorola's RAZR V3 from Cingular
But watch out - some plans aren't so footloose and fancy free, and assess what amounts to a hefty monthly bill no matter what. Verizon Wireless charges a 0.99 "access" fee every day, whether you use your phone or not, adding up to $30.69 in a 31-day month, beyond actual usage charges drawn from your pre-paid kitty. If you don't have at least a 99 cent credit in your pay-as-you-go account each day, Verizon suspends service. You cannot make calls with those "unlimited IN and Night minutes" while service is suspended. Verizon may charge up to $35 to re-establish service.
Besides gaining some control of your phone bill with most offers, you're busting free of phone booths with quarters and drug-store calling cards. You can grab a phone of your own in pay-as-you-go deals. It can be as inexpensive as with Kyocera's voice-activated dialing model the KX424 Blade. Own the Blade for 99 cents with a $104 instant rebate from Alltel (http://www.alltel.com), or pick up pricier options from any of the main group this article covers: Alltel, Cingular, T-Mobile, Verizon Wireless, and Virgin Mobile USA.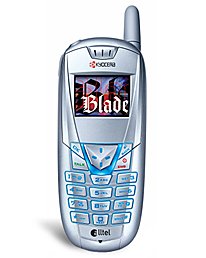 Kyocera's KX424 Blade from Alltel
When you're on a carrier's site, click the link for phones within the pre-paid plan offers. There will be fewer phones there than with non-pre-paid plans, but, most companies marry phones with wide ranging prices to their pre-paid plans. T-Mobile is offering a Sidekick II for $279.99 after $50 mail-in rebate. All ten of the phones at Virgin Mobile USA are available with pay-ahead plans, because that is all they do. None of the five companies run a credit- or background check, because you pay up front. Only one, Verizon, requires a Social Security number to sign up, and a spokesperson noted that Verizon's reps verify the customer's name and address.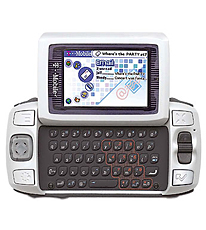 T-Mobile's Sidekick II
Two of the companies will let you bring your own handset, if they approve it. Cingular allows your phone if it is "new enough" - so ask. Verizon allows your phone if it is CDMA and approved for both the Verizon Wireless network and its pay-as-you-go plan. Since companies sometimes forbid moving a phone marketed for one plan to another within its own walls (sometimes due to technological requirements), it is always important to get detailed info before buying an expensive phone. It's also a good idea to hit the Web and take a glance at any plan you're considering to see what might happen to minutes you've paid for, should you decide to switch plans in the future. Reading the fine print may be hard on the eyes, but it's pretty straightforward and usually bad news for retaining prepaid assets.
What Ate My Prepaid Money?
There will almost certainly be an expiration of your honestly purchased and otherwise unexpired minutes just for not buying more within a set amount of days. Alltel requires monthly replenishing of funds to "ensure continued service." This is rather like the nuisance of a bill - but with all the money going into your kitty to use, instead of a Verizonesque 99-cent daily tax for just existing on the plan. Virgin Mobile USA requires a $20 addition every 90 days. Some plans give not only longer expiration periods for greater globs of minutes purchased, but rewards of more minutes. For example, at T-Mobile , a $10 card expires in 30 days, and a $100 card is good for a year. The first time you add $100.00 in refills to your T-Mobile account, you automatically become a Gold Rewards customer and get "at least" 15% more minutes with every refill and your minutes do not expire for one full year. Look for the different rules on each plan.
A less obvious cause for money drain can be extremely presumptuous advertising. Example: If a person not totally inundated by and schooled in the slogans of every telco wandered onto a Web page for a Verizon pay-as-you-go plan called "INpulse," they would see a price list that included:
| | |
| --- | --- |
| Daily Access | 99 cents |
| IN Calling (mobile to mobile) | Unlimited |
| Night Minutes | Unlimited |
These prices are for Verizon-mobile-to-Verizon-mobile phone calls, not calls to any mobile phone , though it's difficult to grok that meaning from the Web page or the pricing table above. Most normal potential customers unfamiliar with Verizon's use of "IN" are likely to assume INpulse allows calls to any mobile phone whether it's a Verizon phone or not. Adding to the confusion is the fact that cents a day adds up to what it costs for a decent wireless plan that gives you a reasonable number of anytime minutes for calls to any phone, mobile or not. Now don't get me wrong internal mobile-to-mobile is a nice thing to offer, but in common English, when a parenthetical expression follows a made-up term, it usually explains the term. "Can you hear me now?"